IF YOU MISSED OSCAR & ANA YOU CAN STILL CATCH THEM AT
JUNE 14-15 CHESHIRE - TANGO FESTIVAL
JUNE 16 - CLASS NIGHT HOVE SUSSEX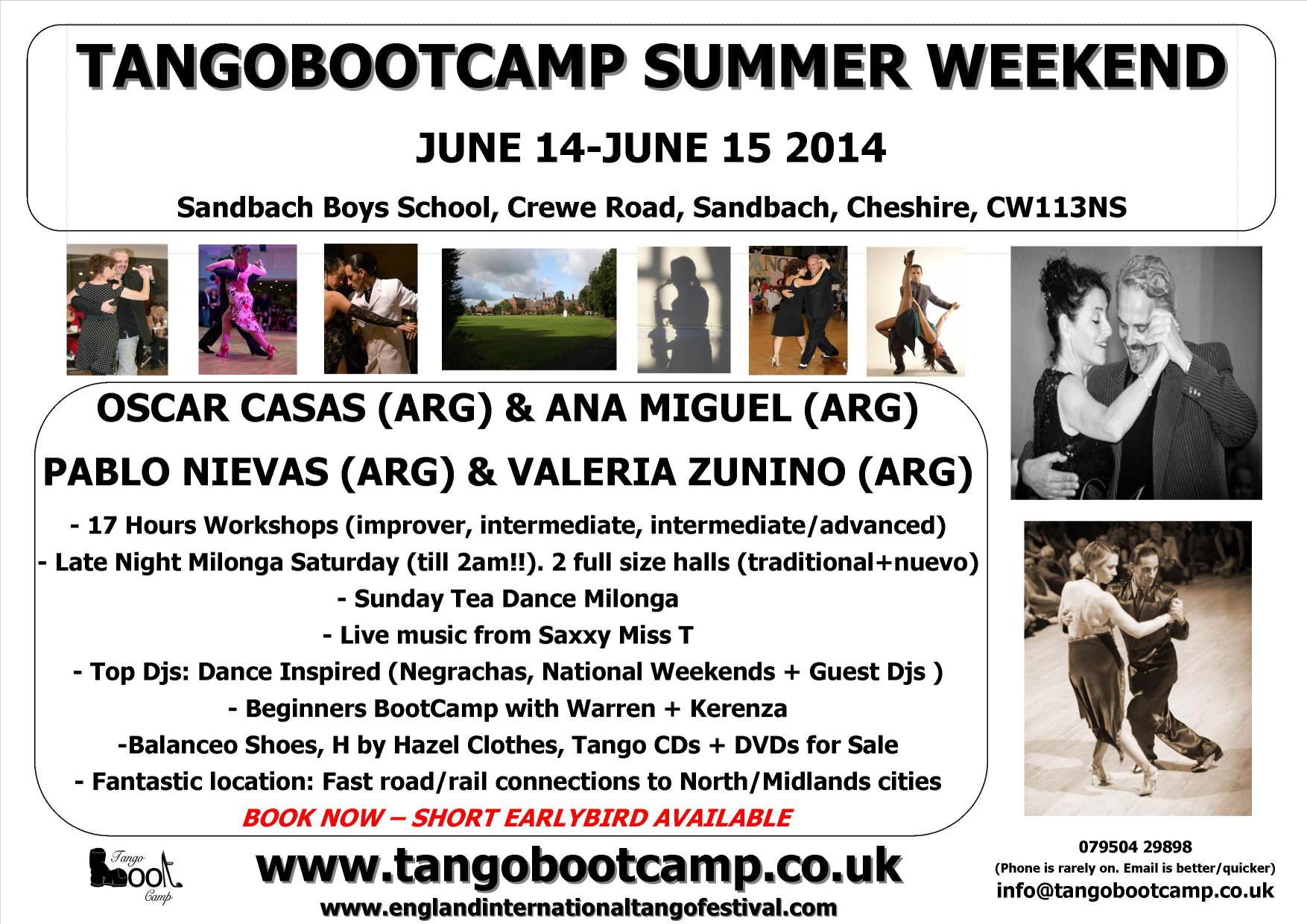 THANK YOU ALL SO MUCH FOR AN INCREDIBLE FESTIVAL
England International Tango Festival 2014 – It's over but not forgotten J
Muchas gracias y grandes Abrazos a todo el mundo !!!
Special thanks to the……
-Hardworking students and gorgeous milonga dancers for your continued support of our event
-Amazing teachers for your inspiration, wisdom, patience and fun,
-Super talented Singers and Players of instruments, djs + sound technicians for the wonderful party nights,
- The delicious caterers, the relaxing masseurs, the fabulous photography and video team for all your lovely stuff
-Our dedicated crew who worked tirelessly for months and throughout the weekend to make it run smoothly. We truly could not make it happen without you
Planning has already begun for Next Year
May 23- May 25 2015
(if you missed out this year get first news of 2015 festival when announced by adding yourself to Festival mailing list (info@englandinternationaltangofestival.com)
2014 FESTIVAL FINAL UPDATE (21 MAY)
-Almost 400 people will attend some or all of the festival :) We can't wait to welcome you all to Buenos Ardingly.
ATTENDEES: PLEASE CHECK INBOX/SPAM FOR COMPREHENSIVE EMAIL SENT LAST WEEK. IT CONTAINS IMPORTANT INFO.
* Many WORKSHOPS are already sold out and many others are close
* ALL 3 MILONGAS NOW SOLD OUT* (*except final 4 tickets available to leaders only if booking workshops also).
You will not be able to buy any milonga tickets on the door
-Some ACCOMMODATION options already sold out
WE WILL DO OUR BEST TO PROCESS LAST MINUTE BOOKINGS BUT WE MAY UNFORTUNATELY RUN OUT OF TIME.
OUR FOCUS IS NOW ON DELIVERING A BRILLIANT FESTIVAL TO THE PEOPLE ALREADY BOOKED.
SO PLEASE BE PATIENT + VERY SPECIFIC ABOUT WHAT YOU WANT TO BOOK (BASED ON AVAILABILITY + BOOKING CRITERIA)
PLEASE CAREFULLY CHECK THE AVAILABILITY AND CRITERIA AT THE LINKS ABOVE BEFORE YOU EMAIL US.
ALSO PLEASE ONLY EMAIL US IF YOU ARE 100% SURE YOU WILL COME.
2014 FESTIVAL (MAY 24-MAY 26 2014)
with
Oscar Casas+Ana Miguel, Homer+Cristina Ladas, Michelle Marsidi+Joachim Dietiker,
Otros Aires, Orquesta Tipica Silbando, Dario+Claire Da Silva,
Diego Doigneau, Dance Inspired, Tony Walker, Saxxy Miss T, Mike + Sue Broady, TangoBootcamp team + crew
and attendees from:
INTERNATIONAL
Argentina, Belgium, Brazil, China, Cuba, Denmark, Finland, France, Germany, Greece, Iran, Ireland, Israel, Italy, New Zealand, Philipines, Russia, Singapore, Slovenia, Sweden, Switzerland, USA
UK
Avon, Bedfordshire, Berkshire, Birmingham, Buckinghamshire, Cambridgeshire, Cheshire, Cornwall, Cumbria, DerbyShire, Devon, Dorset, Durham, Essex, Glousestershire, Hampshire, Herftordshire, Isle of Wight, Kent, Lancashire, London, Merseyside, Northamptonshire, Northern Ireland, Oxfordshire, Scotland, Suffolk, Surrey, Sussex, Wales, West Midlands, Wiltshire, Yorkshire